Petroleum Centre Guided Tours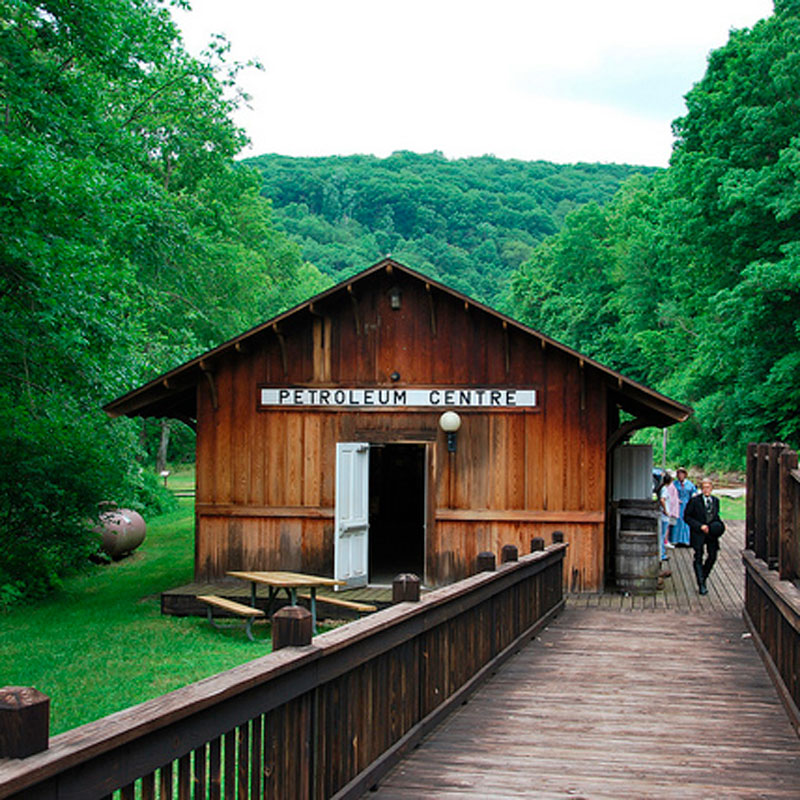 The Oil Creek & Titusville Railroad is teaming up with Oil Creek State Park for Guided Tours of Petroleum Centre.
You'll ride the train from Perry Street Station through Oil Creek State Park and detrain at Petroleum Centre where a tour guide will tell the story of how the town grew from 500 to over 3,000 people in a few short weeks. With no government, the town was filled with dance halls, gambling dens and house of ill repute. Now a ghost town, you will see the diorama at the station and follow the boardwalk to learn the history. You will then catch the train back to Titusville on its return from the full round-trip to Rynd Farm.
Event Dates:
September 10
Departure Time:
11:00 AM
Please plan to arrive at least 45 minutes prior to departure time
Train Ride Time:
Approximately 3 Hours
Train Boarding:
409 S Perry St,
Titusville, PA
Ticket Information & Pricing:
Regular Ticket Prices Apply
First Class:
$40 each (for all ages)
Coach:
Adults – $20 each, Seniors (age 60+) $18 each
and Children (age 2-12) $14 each (under 2 free in Coach only)
Family Special:
2 Adults + up to 2 Children (ages 2-12) just $50
Family ticket good in Coach, June through September only, excluding Special Events.
Click here for info on the difference between First Class and Coach.
Group rates available for 20 or more for regular rides only. Call for rates.
Advanced Ticket Reservations:
Advance reservations for weekend rides will not be accepted after 2pm on the Friday prior. Advance reservations for rides scheduled Wednesday – Friday will not be accepted after 2pm on the Tuesday prior. Tickets are non-refundable.
By Phone:
Call 814-676-1733
By Email or Fax:
Click here to print our Ticket Reservation Form.
More Information:
Dress according to weather conditions. Our Perry Street Station and the Coach cars have heat when needed, but the Coach cars do not have air conditioning.
Oil Creek & Titusville Railroad reserves the right to cancel any train ride due to circumstances beyond our control.
Please be aware: we do not have e-tickets. Anyone trying to sell you e-tickets is trying to scam you. You can only be assured to receive verified tickets for any of our events by contacting us directly by phone at 814-676-1733, or by faxing/emailing/mailing reservation form found on our website to us.