WWII Reenactment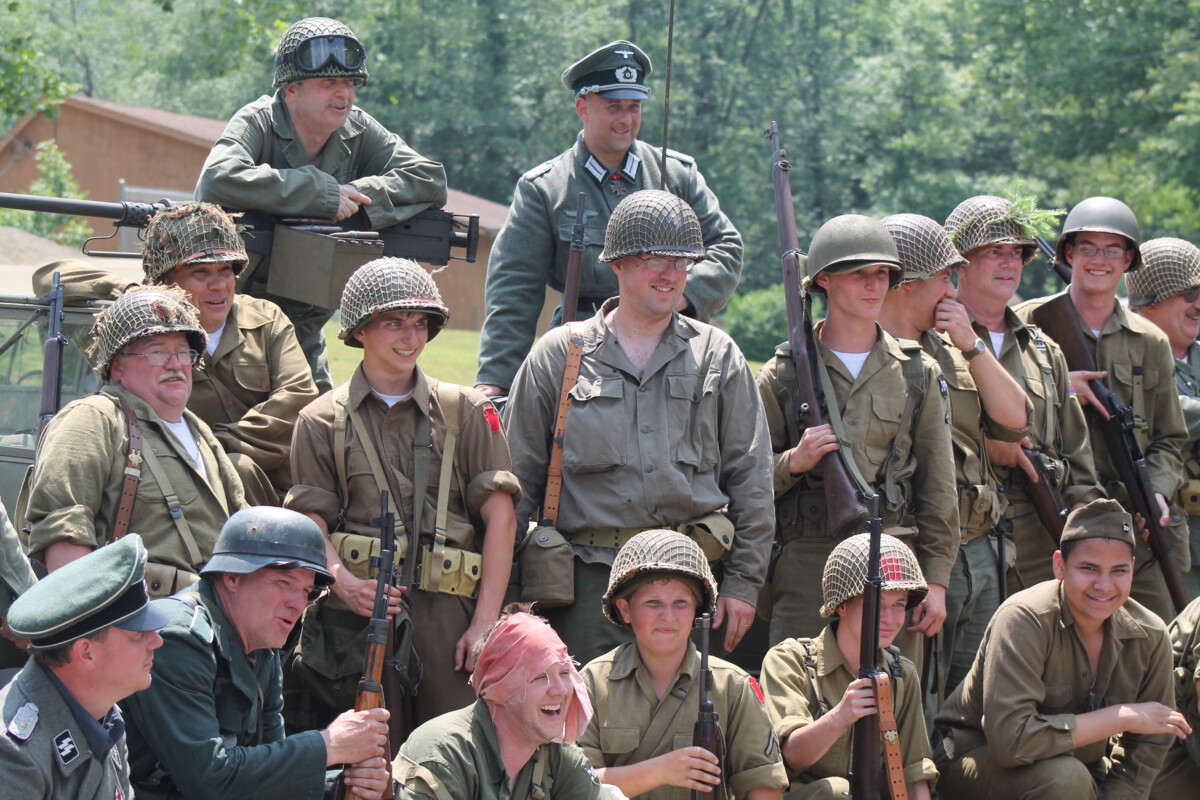 Join us as we become a WWII encampment for both forces with displays of uniforms, weapons and vehicles from the era.
Perry Street Station will open at 9 am, so come early to allow plenty of time to view the encampment and exhibits before the train leaves. The final German military train is trying to escape the Allied Forces spearheaded by the Battle Babies of the 99th Infantry Division. Onboard are allied prisoners of war hoping to be rescued. Battles could break out anywhere along the journey. Be part of this one of a kind event in NW Pennsylvania!
Please note: this includes simulated gunfire and noise consistent with battle action.
Hosted by the 99th Infantry Division Historical Society Inc from Erie, PA.
Event Date:
June 25, 2022 (sold out)
Departure Time:
1:00 PM
Please plan to arrive at least 1 hour prior to departure time
Train Ride Time:
Approximately 3 Hours
Train Boarding:
409 S Perry St,
Titusville, PA
Ticket Information & Pricing:
First Class:
$40 per person (all ages)
Coach:
Adults $22 per person
Seniors (ages 60+) $20 per person
Children (ages 1-12) $16 per child (under 1 are free in Coach only)
Click here for info on the difference between First Class and Coach
Advanced Ticket Reservations:
Advance reservations for weekend rides will not be accepted after 2pm on the Friday prior. Advance reservations for rides scheduled Wednesday – Friday will not be accepted after 2pm on the Tuesday prior. Tickets are non-refundable.
By Phone:
Call 814-676-1733
By Email or Fax:
Click here to print our Ticket Reservation Form.
More Information:
Due to space limitations, pets, bicycles, canoes or kayaks are not permitted on Special Event Rides.
Dress according to weather conditions. Our Perry Street Station and the Coach cars have heat when needed, but the Coach cars do not have air conditioning.
Oil Creek & Titusville Railroad reserves the right to cancel any train ride due to circumstances beyond our control.
Please be aware: we do not have e-tickets. Anyone trying to sell you e-tickets is trying to scam you. You can only be assured to receive verified tickets for any of our events by contacting us directly by phone at 814-676-1733, or by faxing/emailing/mailing reservation form found on our website to us.