FAQ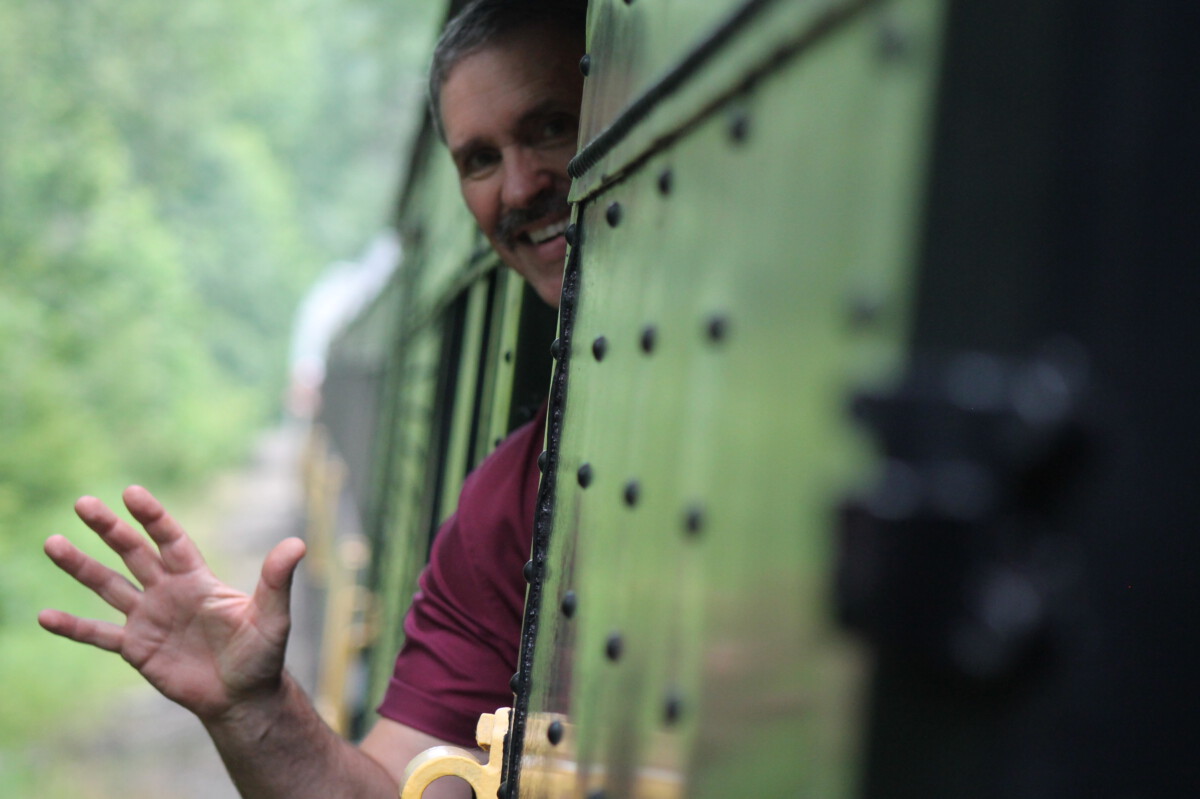 If you don't see your question here, please feel free to call us at 814-676-1733 and we will be happy to answer any questions you may have.
What is the difference between the First Class and Coach?

The First Class car, our Wabash Cannonball has more comfortable seats – more cushioning, cloth covered and can tilt slightly for even more comfort. They are also more like individual seats and have more legroom. First Class also has air conditioning if needed, and is quieter as you don't have the through traffic of other passengers going back and forth to our snack car and our open car. However, you are permitted to leave the First Class car to visit the snack car & open car as well. You are also guaranteed a Tour Guide in First Class; in coach it depends on how many volunteers e have that day. First Class ticket holders enjoy preferred boarding, provided you arrive before general boarding begins. We recommend arriving at least 45 minutes prior for regular rides and at least 1 hour prior for special event rides.

The Coach seats are vinyl-covered, bench-style seating, similar to school bus seats. If we don't have enough volunteers for Tour Guides in each car, passengers will hear the history of the valley via the overhead PA system.

Both are enclosed cars – we have just one Open Gondola car, but we do not sell tickets for this car. Anyone on the train is welcome to go out in the open car once the OK is given to 'walk about.' Please note: Both the Open Gondola car and First Class car are subject to availability.

Do I need to make advance reservations and how far in advance?

Excluding our Murder Mystery Dinners, Wine Tastings and Brew Choo rides, which require advance reservations, you can purchase your tickets the day of provided seating is still available. October and Special Events including WWII Re-enactment, Santa Trains, etc., sell out quickly so early reservations are recommended. Please be aware that seating may not always be available to purchase the day of a regular ride. To guarantee seating, it is recommended to purchase tickets in advance. Boarding starts about 1/2 hour prior to departure time, so you will want to arrive at least 1 hour prior to purchase your tickets the day of at the ticket counter before heading to the train to board.

Advanced reservations can be made by calling the office, Monday-Friday 9 am to 4 pm (May-October), and 9 am to 3 pm during the off season (November-April) at 814-676-1733. We accept reservations any time after our schedule has been announced, usually by mid-January of that year. Advance reservations are closed at 2 pm on the Friday prior to the ride for weekend rides, and on the Tuesday prior for weekday rides. You can also click the reservation link on the page for the event you want to attend to download a pdf order form to mail, email or fax into our office. There is a $4 handling fee per order; handling fees are non-refundable.

We accept all major credit cards. If you prefer, you can pay by check. Mail your check and reservation form to our office address at 117 N Franklin St, Titusville PA, 16354. You can also pay by check or credit card at the Perry Street Station if buying tickets the day of the ride.

If there is enough time, we will mail your tickets to you, along with your credit card receipt. If there isn't sufficient time for the Post Office to deliver your tickets, we will hold them for you at the 'Will Call' window at the ticket counter inside Perry Street Station for you to pick up the day of your ride. You would need to pick them up at least 45 minutes prior to departure for regular rides, and 1 hour prior for Special Events.

Please note: We do not have e-tickets. Anyone trying to sell you e-tickets for one of our excursions is attempting to scam you.

Can I cancel my reservation and get a refund, or transfer to a different date?

We have a strict 'no refund' policy. Your tickets can, however, be transferred to a different date within 1 year from the original ticket date, depending on availability for that date. Ticket Holders need to call 814-676-1733 to schedule the transfer. If you do not contact us within 48 hours prior to departure, your reservation will be counted as a 'no-show' and will not be eligible for transfer to a future date.

Can I purchase Gift Certificates?

Yes, Gift Certificate purchases can be made by calling our office, Monday-Friday 9 am to 4 pm (May-October), or 9 am to 3 pm during the off-season (November-April) at 814-676-1733. Gift certificates can be purchased in any dollar amount.

Where do I board and where does the train go?

Boarding is at our main station, Perry Street Station, which has our Museum, Gift Shop and Concession area, located at 409 S Perry Street, Titusville, PA 16354. Note: the train does not depart from Oil City.

More info and maps on our Find Us page. Our excursions take you through Oil Creek State Park to our Rynd Farm Station (southernmost point of the park) and back. Click here for maps of their park on their website.

What are the ride times and prices? What times does the 11 am train leave? How long is the ride?

Our regular schedule and pricing can be found by visiting the Schedule and Ticket Info page. Special Events info can be found on the Special Events and Tours page. There is a $4 handling fee per order.

Like other forms of transportation, trains operate on a fixed timetable, so the 11 am train does leave the station promptly at 11 am; the 1 pm trains leave promptly at 1 pm, etc. Boarding gates will close five minutes before train departures, so we ask that you try to arrive at least 45 minutes prior to departure for regular rides, and 1 hour prior for special events (Peter Cottontail, WWII, Wine Tastings, Santa Train, etc) to allow time to park and get inside the station for boarding. Murder Mystery Dinner tickets can be picked up the day of the event any time after 3:30 pm. We do ask that you pick them up at least by 4:30 pm as we will begin seating at approximately 4:45 pm.

Our train rides are 3-hour round-trip excursions, including a short stop at our halfway point, Rynd Farm Station, where ice cream novelties are available for most rides June through October.

Murder Mystery Dinners start with dinner at the station at 4:45 pm, with the train departing at 6 pm and the evening concluding back at the station at about 9:30 pm.

What are the hours at Perry Street Station?

Our Perry Street Station is open only on days our train is running. The hours vary depending on the schedule, but normally it is open by 9 am for rides that depart at 11 am, by 10 am for the 1 pm and by 8 am for the 10 am rides in October. Call our office at 814-676-1733 for more information.

Do you offer discounts for groups?

We are pleased to offer discounted rates for groups of 20 or more people for our regular rides. For our regular rides, First Class group rate is $35 per person (all ages), and Coach seating group rates are $16 (adults and seniors), and $11 (kids ages 2-12). There are no group rates for our special excursions (including Murder Mystery Dinners, WWII, Santa Train and Peter Cottontail Express). Call our office at 814-676-1733 for more details.

Can we rent a car, the entire train or Perry Street Station?

Depending on the event, we can provide you with a cost quote for a single car or an entire train, as well as Perry Street Station rentals. Please call our office at 814-676-1733, and we will be happy to furnish a quote. Car rentals are not available for Special Events and depend on availability.

Is it true I can ride one way and bring my bike/canoe/kayak on the train?

Yes, for an additional $5 per bike, bike trailer (for the little ones), canoe or kayak you can bring them aboard and ride one way, and then hike, bike, canoe or kayak back to your vehicle. One way tickets are $13/adults and $11/kids (ages 2-12). Please contact the Oil Creek State Park for information regarding creek conditions and info on their paved hike/bike trail. Click here for more info. You can view a map of their park by visiting their website. Not permitted during Special Events or October due to space limitations.

Please Note: Petroleum Centre bridge in Oil Creek State Park is now open to pedestrian and bicycle traffic.


Are your cars enclosed? Is there an open car on the train?

Our First Class car and Coach cars are all enclosed. We do have an open air gondola car. Weather permitting, passengers are welcome to spend time there once the conductor has given the ok to walk about the train. Please be careful when moving in between cars, as the cars can be subject to sudden jerks. All children must be accompanied by an adult when moving through the train. Please Note: Open Air and First Class cars subject to availability.

Are seats on the train reserved?

No, specific seats are not reserved on the train, seating is on a first-come, first-served basis. If you have a group, plan to arrive at least one hour prior to departure to board together if you would like to sit together, or at least near each other. Please note: During Special Events and in October we will be seating passengers starting with the first car and working back towards the open Gondola car.

Are there restrooms on the train?

Yes, cars on the train have a restroom. There are also restrooms at Perry Street Station and Rynd Farm Station.

How fast does the train travel?

The train travels at about 12 mph.

Food and beverages?

UPDATE: For 2024 there will be no prepared hot foods (hot dogs, hamburgers, etc) for sale. Prepackaged snacks & drinks will be available for purchase.

Yes, our Railway Post Office car has snacks and beverages, including popcorn, candy, chips, hot dogs, pop, water, etc. There is a full concession area at Perry Street Station. Ice cream novelties and soft drinks are available at our Rynd Farm Station (the halfway point, open June through October only). Please note: During Special Event rides and in October, concessions on the train will go quickly as we typically have 400 to 500 passengers and we simply do not have the space to hold enough food on the train for that many people. You are welcome to bring your own – see below.

Alcoholic beverages are strictly prohibited on our train and facilities, with the exception of our Wine Tastings and Taps on Tracks – and no outside alcohol is permitted even during those runs. You can bring your own snacks and non-alcoholic beverages. Anything that is going to take up space and could cause any safety issues, such as hard-sided coolers, picnic baskets and large bags will not be permitted onboard. No glass bottles/containers. All carry-on items must be small enough to stay on your lap. We also have concessions at Perry Street Station, on the train and at Rynd Farm Station (halfway point). You can also order box lunches at least 2 weeks in advance to eat on the train. Call us at 814-676-1733 for more details.

Are dogs permitted on the train?

We do allow dogs on the train in Coach for a $5.00 fee. An 'On-Train Pet Policy' waiver must be signed, and someone must stay with the dog at your seat; you cannot walk about the train with your dog. Pets are not permitted for any of our Special Events or in October due to space limitations. Per Americans with Disabilities Act (ADA), service animals are not considered pets and are permitted in all areas where customers are allowed without a fee. Service animals are animals trained to perform a specific task for the benefit of a person with a disability.

Can I move about the train?

Yes, once the conductor gives the ok, passengers are welcome to move from car to car. Please be careful when moving in between cars, as the cars can be subject to sudden jerks. All children must be accompanied by an adult when moving through the train. We invite you to check out our Open Gondola car for a great view of the valley. And be sure to visit our Railway Post Office car to mail a postcard right from the train or to grab something to eat or drink.

Can I smoke on the train?

Smoking is not permitted on any train ride or in any of our buildings at any time.

Can I bring my child's stroller or car seat?

Strollers and car seats are not permitted on the train as they can pose a safety concern.

Is there free parking? Is there ADA parking?

Yes. Our parking lot is located right next to the Perry Street Station and the Caboose Motel. There is limited handicap parking, so arrive early and have your placard visible.

Are you handicap accessible?

We are handicap accessible by reservation. All of our stations have floor-level boarding platforms and wheelchair ramps. As our passenger cars are vintage and the doors from car to car are narrow, wheelchair/scooter seating is limited to the Railway Post Office Car, with one attendant. Doors to that car are 33″ wide. Please note: due to limited space on the RPO car, only one attendant per wheelchair/scooter will be permitted and advanced reservations are required. Murder Mystery Dinners and some Special Events are not wheelchair accessible. Restrooms on the train are not handicap accessible, however they are at Perry Street Station and Rynd Farm Station.

Are your cars heated? Do they have air conditioning?

Limited heat is now available on the train and in our Perry Street Station. However, we always recommend dressing for the weather. Air conditioning is available on the First Class car only.

Do you have a picnic area nearby?

There is no picnic area near our Perry Street Station. However, there are picnic tables near Drake Well Museum, which is only about 5 minutes away. Picnic areas can also be found in various sections of Oil Creek State Park.

What type of footwear is appropriate?

We suggest wearing shoes that are not open-toed. Even if you think those sandals or flip-flops are super cute, they are not appropriate for wearing on a train.